Leading Women2020 Event
The fourth 2013 event of the Women2020 platform will take place at the GSMA offices in Brussels on Thursday, 14 November 2013, 8:00-10:30. This event will take the form of an invitation-only breakfast briefing for a total of forty speakers and attendees on the topic of Women in Leadership for Inclusive Growth — one of the three pillars of the European 2020 Strategy.
Participation: This event is Invitation Only. To express your interest in being invited to attend, please follow this link and fill in an Attendee Nomination form to submit to the organisers.
Women in Leadership for Inclusive Growth:
Promoting Women in Public and Private Sector Leadership in Europe 
Draft Agenda:
8:00-8:50 – Registration and networking breakfast
8:45-8:50 – Host welcome
8:50-9:40 – Panelist presentations moderated by Ms. Cheryl Miller, Founder of Women2020
9:40-10:25 – Discussion with Attendees & Online Participants
10:25-10:30 – Closing Remarks
Live Webstreaming:  The entire event will be live-streamed here for public participation.
Women2020 Rapporteur:  Ms. Inge De Prins
2013 Series: The 14 November event is the fourth in a series of high-level Women2020 gatherings taking place throughout 2013, addressing topics related to women's contribution to achieving the Europe 2020 vision. The entire agenda is the following:
COMPLETED: 8 March (12:00-14:00 at DIGITALEUROPE, Brussels): Women for Smart, Sustainable & Inclusive Growth: Promoting the Contribution of Women to Achieving the Europe2020 Vision
COMPLETED: 25 April (8:00-10:30 at DIGITALEUROPE, Brussels): Women in STEM for Smart Growth: Promoting Women's Education, Jobs and Leadership in STEM Sectors in Europe
COMPLETED

: 15 May (8:00-10:30 at Google, Brussels): Women in Enterprise for Sustainable Growth: Promoting Women-led Innovation and Enterprise, and Women Entrepreneurs in Europe
14 November (8:00-10:30 at GSMA, Brussels): Women in Leadership for Inclusive Growth: Promoting Women in Public & Private Sector Leadership
17 December (18:00-20:30 at TBA, Brussels): Young Women for Europe 2020: Promoting Young Women for Smart, Sustainable and Inclusive Growth in Europe
Upcoming Events:  Forthcoming Women2020 Events include the following:
January 2014 (TBC – Google, Brussels):  Release Event Women2020 Action Plan
Action Plan: In collaboration with our media partners, Business Incubator Magazine and New Europe, a Women2020 Action Plan will be published at the beginning of 2014 on the basis of the Women2020 dialogues.
Involvement: Please contact the organiser for more information about the Women2020 platform, or to sponsor or host a Women2020 event.
Please sign our petition supporting 40% Women on Europe's Boards of Directors!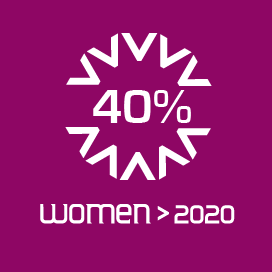 Partners & Sponsors: For inquiries on how your organisation can support the Women2020 initaitive, please contact us.
The Women2020 platform is made possible by the generous contribution of our partners and sponsors.